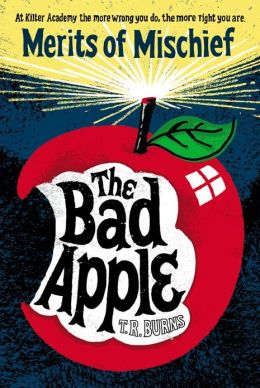 Sent:
The Bad Apple and A World of Trouble by T.R. Burns
Seamus is immediately shipped off to a detention facility—only to discover that Kilter Academy is actually a school to mold future Troublemakers, where demerits are awarded as a prize for bad behavior and each student is tasked to pull various pranks on their teachers in order to excel. Initially determined to avoid any more mishaps, Seamus nonetheless inadvertently emerges as a uniquely skilled troublemaker. Together with new friends Lemon and Elinor, he rises to the top of his class while beginning to discover that Kilter Academy has some major secrets and surprises in store….
It sounds cute. I might give the first book a try to see if I like it.
Bought:
Gates of Paradise by Melissa De La Cruz
Schuyler Van Alen is running out of time. The Dark Prince of Hell is storming the Gates of Paradise, intent on winning the heavenly throne for good. This time he has his greatest angels by his side, Abbadon and Azrael—Jack and Mimi Force, as they are known in the Coven.
Or so he thinks. Even as Lucifer assigns Jack and Mimi the tasks of killing their true loves, the Force twins secretly vow to defeat the Dark Prince once and for all. But how far will Mimi and Jack go to conceal their real loyalties?
Meanwhile, former vampire Bliss Llewellyn has joined forces with Lawson, the greatest wolf of the underworld, to free his people from their imprisonment in Hell. As they struggle against impossible odds, an ancient message, woven into the very fabric of time, reveals just how much depends on the success of their mission.
Lucifer seeks the key to the Gate of Promise, and when Schuyler is taken captive and delivered straight to Hell, she must make an unthinkable choice—the same one the archangel Michael was forced to make during the Crisis in Rome. Will Schuyler find the strength to do what he could not?
The epic, heartbreaking Blue Bloods series comes to a close with this final novel about staggering courage, unbearable sacrifice, and the immortality of true love.
I am excited to read this one and finish the series.
Library:
Just One Day by Gayle Forman
A breathtaking journey toward self-discovery and true love, from the author of
If I Stay
When sheltered American good girl Allyson "LuLu" Healey first meets laid-back Dutch actor Willem De Ruiter at an underground performance of
Twelfth Night
in England, there's an undeniable spark. After just one day together, that spark bursts into a flame, or so it seems to Allyson, until the following morning, when she wakes up after a whirlwind day in Paris to discover that Willem has left. Over the next year, Allyson embarks on a journey to come to terms with the narrow confines of her life, and through Shakespeare, travel, and a quest for her almost-true-love, to break free of those confines.
Just One Day
is the first in a sweepingly romantic duet of novels. Willem's story—
Just One Year
—is coming soon!
I have heard great things about this book and really want to read it.