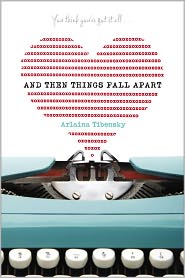 Source: Publisher
Keek's life was totally perfect.
Keek and her boyfriend just had their Worst Fight Ever, her best friend heinously betrayed her, her parents are divorcing, and her mom's across the country caring for her newborn cousin, who may or may not make it home from the hospital. To top it all off, Keek's got the plague. (Well, the chicken pox.) Now she's holed up at her grandmother's technologically-barren house until further notice. Not quite the summer vacation Keek had in mind.
With only an old typewriter and Sylvia Plath's The Bell Jar
for solace and guidance, Keek's alone with her swirling thoughts. But one thing's clear through her feverish haze—she's got to figure out why things went wrong so she can put them right.
This book starts off very funny, but slowly grows in depth . The main character has a very high fever and her
sense of reality isn't always there. Keek is a very awesome character. She is edgy, smart, funny, and just awesome. I found Keek to be a great narrator and loved her honesty. Keek's grandma was very spirited and bold. I really enjoyed her attitude. Keek's mom and dad both have their flaws and I found their problems to be fascinated. I also liked the other characters in the book and found them to be well developed. The plot slowly unraveled what happened in the past, while showing what was happening in the present. I really enjoyed that Sylvia Plath was included in this book, since I completely adore The Bell Jar. This book was really unique and I liked how the story was written like a diary, but wasn't quite one. Tibensky is a fabulous writer and I can't wait to read more from her. I recommend this book to fans of Sylvia Plath, Poetry, and fresh and edgy writing. I really enjoyed this book.