Kelley Armstrong is married with three children and lives in rural Ontario, Canada. After graduating from the University of Western Ontario with a degree in psychology, she moved on to study computer programming. She is now a full-time writer and parent. She has written The Otherworlds series, The Darkest Power Series, and Nadia Stafford Series.
1. Before writing for Teens, you were a bestselling author for Adults. What did writing for the young adult readers appeal to you?

It was a couple of things. I had an idea inspired by my second adult novel, Stolen, but it was about supernaturals just coming into their powers, which in my world happens at puberty. So it wouldn't work for an adult series. That idea was in the back of my mind as I was getting email from readers I considered a little too young to be reading my other books! So I decided to give my YA idea a try.
2. All of the main characters in Darkest Powers series have some sort of "power". What "power" would you like the most?
I would love to be a werewolf and experience life in a different form? The secondary characteristics would be cool, too, but those "extras" also make it hard for werewolves to blend, so in a more practical sense, I'd go with spell-casters. Their powers take work to learn, but overall they have fewer drawbacks. 
3. What books can we expect from you in the future?

The next two Otherworld books are Savannah's. She's 21 and finally able to get into trouble without the others to protect her. For the YA, I'm working on the first of the second trilogy, which is set in the same world as the first, but with new characters and a new Edison Group experiment.
4. You have 13 books out, 2 coming in the next year, and a lot of short stories. Where do you get the inspiration for so many books?
Questions like that were so much easier to answer when I first started writing, because I knew exactly where ideas and inspiration came from! Now, with all those books out, I'm influenced by so many sources that it's a fluid and invisible process. Everything goes into the creative pot and if I sit back and think "where did I get that ingredient from?" I honestly have no idea.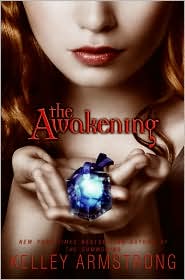 5. What does writing in a series appeal to you?

Writing in a series gives me the chance to develop characters and fantasy worlds beyond what I can do in one book. With each new one, I'm able to try something a little different and tap further into what I've already created.
6. What is a normal writing day for you?

A typical writing day starts at about 5:30. I work until I get my kids up, then send them off on the bus at 7:30.  I usually write all morning and into the early afternoon, then spend the rest of the afternoon doing business stuff.  I stop at 4 when the kids return, then try to get in another hour or two in the evening.  On weekends I get caught up on snail mail, email, interviews etc. In summer, like now, it's more of a mishmash, taking time when I can get it and trying to stay on schedule while enjoying having the kids around.
7. What do you do other then writing, reading, and being an author
?
My other hobbies would include cooking, learning, hiking and spending time with my family.
8. Is there anything that you would like to add?
Just a thank you for the interview!